Professor Vita: Robert O. Rapp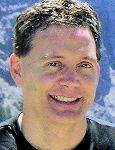 Rev. Robert O. Rapp, Th.M., MAC
Chaplain Overseer
Portland Rescue Mission
Portland, OR   
Life Focus:  To contribute to strategic evangelism and discipleship partnerships in order to promote global impact for Christ.  

EDUCATION


Th.M. Western Seminary, Portland, Oregon, 1999 
M.Div. Multnomah Biblical Seminary, Portland, Oregon, 1995
B.A. Economics and Business, WestmontCollege, Santa Barbara, California, 1983

MINISTRY AND WORK EXPERIENCE


Portland Rescue Mission, Portland, Oregon, 1995-present
            Served in several positions with increasing responsibility.

Chaplain Overseer, 2005-present - Supervised chaplains, counselors, and volunteer staff in their ministry to homeless guests and residents in the New Life Discipleship Program.

 

Granted (since January 2007) clinically supervised hours to eligible staff and volunteers for purposes of state and national certifications. 

Program Chaplain Administrator, 2003-2005 - Developed ministry services to meet the spiritual and physical needs of both homeless guests and program residents.  Supervised program chaplaincy staff and volunteers. 

Chaplain, 1999-2003 - Discipled program residents by teaching the Bible, leading small groups, counseling, and case management support.  Full-time.



 
DHS, Inc., Portland, Oregon, 1995-1999
Served as case manager to elderly and vulnerable adults by developing and implementing case plans for residential home care.  Part-time.

ADDITIONAL TEACHING EXPERIENCE
Course Mentor, WesternSeminaryCenter for Lifelong Learning, Portland, Oregon, 1996-present -  Trained distance seminary students for life-long ministry.  Served as the student contact for each course.  Supported student success by initiating regular and ongoing communication, providing timely feedback, and issuing final course grades.  
Teacher, AGRM (Association of Gospel Rescue Missions) convention Super Seminars and mid-year conferences, 2003-2007.
Instructor, SummitViewAcademy, Vancouver, Washington, 2003
Instructor, Multnomah Bible College, 1995-1997, 2002
Teaching Assistant, Multnomah Biblical Seminary, 1993-1995
Teaching Assistant, Westmont College, 1982-1983
CURRENT CERTIFICATIONS AND ORDINATION
MAC credential, NAADAC (National Association of Drug and Alcohol Counselors)
CADC1 certification, ACCBO (Addiction Counseling Certification Board of Oregon)
BCRPS (Basic Certified Relapse Prevention Specialist) certification, Terence T. Gorski-CENAPS (Center for Applied Sciences)
Ordained, CentralBibleChurch, Portland, Oregon
CURRENT PROFESSIONAL MEMBERSHIPS
AACC (American Association of Christian Counselors)
BAACC (Black African American Christian Counselors), a division of AACC
NAADAC (National Association of Alcohol and Drug Abuse Counselors)
AGRM (Association of Gospel Rescue Missions)
CARA (Christian Addiction and Rehabilitation Association), a track of AGRM - Served as track Vice Chair, 2004-present.    Authored "The Gift of Family Reconciliation," Rescue, December 2005
OTHER SERVICE
Lay Leader, CentralBibleChurch, Portland, Oregon, 1993-present
Lay Leader, International Students, Inc., Portland, Oregon, 1992-1993
Lay Leader, FellowshipBaptistChurch, Riverside, California, 1983-1992
AREAS OF EXPERTISE AND SPECIAL INTEREST
Enjoy teaching Bible Study Methods
The Middle East, including travel to Israel (1987), Israel/Egypt (1994), Israel/Jordan (1996)
Desire to pursue a D.Min. degree in the future