Professor Vita: Fletcher Tink
Fletcher L. Tink

---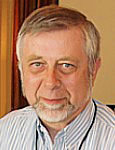 Dr. Fletcher L. Tink
Executive Director
Bresee Institute for Metro Ministries
Kansas City, MO.
Adjunct Professor of Urban/Compassionate Ministries
Nazarene Theological Seminary
Kansas City, MO
Education
 

Ph.D. Fuller Theological Seminary, School of Intercultural Studies (Pasadena, CA): specialized studies in urban anthropological, urban ministries and leadership development
M.A.  Fuller Theological Seminary, School of Intercultural Studies: Missiology
Master of Liberal Arts, Harvard University (Cambridge, MA):  Romance Languages and Literature
M. Th.  Luther Theological Seminary, (Minneapolis, MN): World Religions and Missions
M.Div.  Nazarene Theological Seminary (Kansas City, MO): Linguistics and Missions
B.A.  Eastern Nazarene College (Quincy, MA): Mathematics and Psychology
Experience
Dr Tink for six years has served as adjunct professor of Urban and Compassionate Ministries at the Nazarene Theological Seminary, and for four years as the Executive Director for the Bresee Institute for Metro Ministries, a training institution for those seeking or serving in the urban environment.  
He has served in urban community development for the Peace Corps in Brasilia, Brazil and as a church planter in pioneer areas of Bolivia.  He has taught formal accredited courses in 28 nations for such institutions as Azusa Pacific University, Fuller Seminary, Eastern Nazarene College, Indiana Wesleyan University, Messiah College, European Nazarene Bible College, Alliance Theological Seminary (in Manila), Washington Bible College (DC), and Eastern Mennonite University and MidAmerican Nazarene University and SENDAS (in Costa Rica)   He teaches in three languages.  All told, he has ministered in, or travelled through 95 countries writing about "signs of the Kingdom" in many of these.
Dr. Tink has pastored in Washington, DC. Minneapolis, Kansas City, Los Angeles, and La Paz and Santa Cruz, Bolivia.  He has served as a consultant to World Vision, Pew Foundation, Urban Ventures, and to various denominational boards and committees.  He has written extensively on urban and compassionate ministry issues in Christianity Today, Missiology, Holiness Today, Ministry and numerous other magazines and journals. 
He is married to Dr Joyce Tombran-Tink, a molecular biologist currently serving as visiting professor at Yale University.  They are parents of four children, Kayla Bosworth, Melody Steiner, Amber and Ryan, and have 4 grandchildren.
---