Professor Vita: James VarnHagen
James F. VarnHagen, Professor, Course 304

---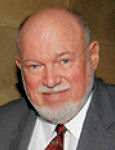 James F. VarnHagen
Executive Director/Trustee Emeritus
New York City Rescue Mission
New York, NY
MINISTRY VISION
To encourage and prepare individuals to minister effectively to those who have tried, in their desperate attempt, to escape the claim of the Creator upon their lives. In the furtherance of equipping those committed to such ministry, it is also a desire to see each one achieve the goals and objectives they have set for personal advancement.
EDUCATION

D.D., Honoris Causa, Northwestern Theological Seminary, 2006
Post Graduate Studies, Trinity Evangelical Divinity School
M.A., Intercultural Studies (Missions), Wheaton College Graduate School, 1988
B.R.E., Missions, William Tyndale College, 1977

MINISTRY EXPERIENCE

Executive Director, New York City Rescue Mission, (New York, NY), 1990–2013
Executive Director, Light Bearers Association, (Chicago, IL), 1984–1990
Director of Development, Missionary Internship, (Farmington Hills, MI), 1983–1984
Director, Christian Guidance Center, (Detroit, MI), 1979–1983
Director of Ministries, Detroit Rescue Mission Ministries, (Detroit, MI), 1978-1982

OTHER EXPERIENCE

Electrical and Electronic Engineering and Management Positions, 1961–1978
Communications and Countermeasures, Electronic Training, U.S. Air Force, 1954–1961

BIOGRAPHICAL SKETCH
After acquiring expertise in electronics during seven years of active duty in the U.S. Air Force, Mr. VarnHagen spent the next seventeen years in engineering and management positions. In January 1978 he joined the Detroit Rescue Mission Ministries staff after serving as a rescue mission volunteer for a number of years. Mr. VarnHagen came to the New York City Rescue Mission as Executive Director in 1990. He retired in 2013 and continues as Trustee Emeritus on the Mission's Board of Trustees.
He has served on the Board of the Association of Gospel Rescue Missions (AGRM) for five years and as President of the AGRM – Northeast District for four years. Currently he serves as a mentor to help plant new rescue missions in cities primarily throughout the Northeast. He is commissioned as a missionary by his church fellowship. Mr. VarnHagen and Anita, his wife, are the parents of nine children and have 19 grandchildren and one great-grandchild.
---