Professor Vita: Mark Siegrist
Mark Siegrist, Professor, Course 307

---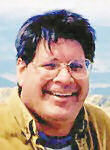 Rev. Mark Siegrist, Director of Education
Denver Rescue Mission, Denver, CO
Education
Master of Arts in Management with Non-Profit Ministry Management emphasis, Regent University School of Business, Virginia Beach, VA., 2001.
Master of Divinity with Pastoral Ministries emphasis, Assemblies of God Theological Seminary, Springfield, MO, 1986.
Bachelor of Arts in Biblical Studies, Evangel University, Springfield, MO., 1983.
Experience
I have facilitated teaching and training to groups from 2 to 600 on various instructional themes:
Team Building and Development
Interpersonal Communication Skills
Management and Supervisory Skills
Inspirational and Faith-Based Life
Balance · Anger Management and Conflict Resolution
Strategic Planning
Applied People Skill
12-Step Addictions Recovery
Stephen Covey's Seven Habits
Dealing with Negative Attitudes
My values-based leadership strengths and experiences are in the following areas:
Facilitating corporate training
Public speaking presentations
Staff relations and development
Focused organizational planning
Facilitating change in corporate culture
Facilitating teaming effort
Job description development
Performance review strategy
Management of people skills
Employee policy manual development
Employment History
DENVER RESCUE MISSION Denver, CO 
Spring, 1999 to Present
Currently serves as Director of Education for three adult Literacy and Education Centers.
Guides the administrative management for the department process, projects and people.
Ensures academic proficiency include math, reading and G.E.D. preparation.
Instills adult addictions recovery residents with the self-motivation to learn from their past.
Develops and implements seminar-style classes on life management and workplace soft skills.
Develops and implements management training on workplace soft skills for department staff.
Spring, 1990 to Winter, 1998
CITY MISSION/NEW LIFE CENTER Erie, PA
Served as Director of Operations with responsibility for six department heads of staff.
Managed the department processes, projects and people.
Developed and implemented a corporate management training program organization-wide.
Facilitated the process of long-range organizational focus for growth.
Drafted an organizational mission/vision statement, core values and an annual direction statement.
Represented the non-profit's organizational efforts community-wide through public speaking.
Fall, 1986 to Spring, 1990
UNION MISSION MINISTRIES Charleston, WV,
Served as Chaplain/Counselor for groups of 25 adult addictions recovery residents.
Developed and implemented a faith-based Life Recovery Program curriculum.
Credentials
Association of Gospel Rescue Missions, (AGRM) Kansas City, MO., Member.
Education and Employment Track, AGRM, Chair and Member.
License to Preach, Rocky Mountain District of the Assemblies of God.
Personal
Married - 2 children - Excellent health - Enjoy traveling, the arts and the outdoors.