Professor Vita: James Harriger
James M. Harriger, Professor, Course 301

---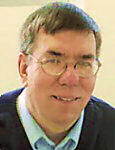 Rev. James M. Harriger
Director
White River Community Development Corp.
Rockaway Beach, MO
Education
BA, Mathematics, Messiah College, 1973
MCM, Christian Education, Seattle Pacific University, 1981.
Ministry Experience
1967-69 Volunteered with the Sankey Youth Center, City Mission, New Castle, Pennsylvania.
1971-75 York Youth Center, York Rescue Mission, York Pennsylvania. This was to be a summer job only. God had a different plan, though, and when He told me He wanted me to stay in the city, I said yes, transferred colleges, and began working full-time. I became the Youth Director for the program in 1973.
1975-1980 Union Gospel Mission, Seattle, Washington. As Youth Director for UGM, I oversaw the after-school Bible Clubs, Sunday School, after-school recreation and summer camping programs.
1980-1987 Union Gospel Mission, Program Director. In this newly created position, I supervised the Men's, Youth, Family, Young Adult and Thrift Store directors in the area of program.
1984-1987 Union Gospel Mission, Assistant Executive Director. When the Executive Director was elected President of the IUGM, The Board appointed me Assistant Executive Director to clearly designate one person in charge when the Executive Director was traveling on business.
1987-1990 International Union of Gospel Missions, Director of Education. As the first Director of Education, I wrote curriculum for the Leadership Training Program, the original Growing Together Toward Excellence Manual, compiled how-to information, and worked with the Executive Director on meetings, conventions and publications.
1991-1993 Central Union Mission, Washington, D.C. As the Director of Camp Bennett, I oversaw the operation of the 220 acre summer camp and retreat center and the men's program at the camp while designing a twenty-five year master plan for its development.
1993-2016 Executive Director, Springfield Victory Mission, Springfield, Missouri. Victory Mission is not your typical rescue mission (victorymission.com)!  I started in 1993 with 24 staff, a 50-bed men's facility with a small recovery program, a thrift store and a women's house.  In 2016 the Mission is 150 bed men's facility, both a recovery program and a discipleship program, the second largest food pantry in the area, along with the only Spanish language food pantry, Thanksgiving and Christmas baskets, and the largest Back To School event in the region.. There is a 33,000 square foot warehouse and recycling center, along with a community Thrift Store.  Victory Trade School (victorytradeschool.edu) was started in 2003, which is today the only accredited culinary arts school for men who have had life controlling issues, along with a family science program for women.  The partnerships throughout the community are strong.  The budget grew from $300,000 to $3,000,000 during these 23 years as well.
2016– After retiring in January, 2016, my wife and I waited and prayed for what God had next for us.  What is next is very exciting:  we are moving to the small town of Rockaway Beach, located about 10 miles northeast of Branson, Missouri.  I will start July 1, serving on the staff of Bridge of Faith Community Church (bridgeoffaithcc.org) and as the Director of the White River Community Development Corporation.  The Bridge of Faith is about thirteen years old, and is having a major impact on the community as they work with the children. 
Personal Information
Married 42 years to Mary
2 daughters, 6 grandchildren
 I am licensed in the Conservative Baptist Church, through Grace Conservative Baptist, Seattle, Washington.   I have been a member of the Association of Gospel Rescue Missions since 1981, and had the privilege of being at the organizing meeting for the Christian Community Development Association, as well as strong involvement with Christian Camps and Conference Centers for 20 years. 
Thoughts on Ministry
45 years of ministry seems like only a start.  I have worked with children and teens, men with addictions, staff who are rebellious and community who really didn't like us.  I have traveled as part of my job, but enjoy being at home.  I have practiced being a neighbor to those around me, whomever they may be.  The result has been God's favor in so many ways.   As I retired, I was referred to in one news story as an "icon of the community".  You too can be an icon of your community:  simply start each day with Jesus, then show up for the job He has assigned you to do.  Do this consistently over 23 years, and you will be an icon.
Testimony
I was fifteen when I realized that I needed to ask God to forgive me of me sins and invite Jesus into my heart. I did this one evening, kneeling beside my bed. That night began my adventure with Jesus.
In August of that year, I was asked to be a counselor at a camp for junior high, inner-city boys. God used the experience of working with this group of boys to begin his call of me to the inner-city. I went to York, Pennsylvania after my Sophomore year of college to work with the York Rescue Mission's summer camp program. There, God called me to stay in the city, and to serve Him through the work of the Mission. I said yes, and He has blessed my submission to His call.
Through all of the cross-country moves, the birth and death of our first child, ministry crisis, completing my Masters, and other less intense happenings, God has been with me. I have learned how to lean upon Him when the going is tough, and how to praise Him for each new challenge He brings my way. I know that Jesus is at work in my life, working out His will and molding me into the person He wants me to be. 
And now, Mary and I are starting on another adventure in ministry, moving to Rockaway Beach, Missouri to work with the Bridge of Faith Community Church.
---