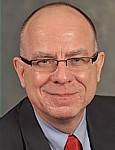 Michael Liimatta has spent his entire career, spanning four decades, in urban outreach to the underserved, especially the homeless and people experiencing substance use disorder. He has served as an educator and college administrator, nonprofit executive director, consultant, and is a certified addiction counselor.
Michael founded Rescue College in 1998 when he was serving as Director of Education for the Association of Gospel Rescue Missions. In 2008, the college moved from AGRM to become the online distance learning program of  TechMission, based in Boston, MA and the name was changed to City Vision College.  In 2015, the name changed again to City Vision University after it began offering graduate degree programs. He served first as the school's president and eventually retired as its Chief Academic Officer in 2015.
In 2015, Michael began his service as full-time CEO of Connecting for Good, a Kansas City based nonprofit he started four years earlier. The organization works to close the Digital Divide among low income families, seniors and the disabled in distressed inner city neighborhoods by providing digital literacy instruction, inexpensive refurbished PCs and free and affordable Internet connections. In June 2020, the organization because a local affiliate of PCs for People.
Later in 2015, Michael went to Washington, D.C. to work for the Office of the Secretary of the U.S. Department of Housing and Urban Development (HUD). Until the end of 2016, he served as Manager of ConnectHome, an Obama White House initiative administered by HUD. The program was an innovative public-private partnership involving twenty-seven U.S. cities and the Choctaw Nation. Its focus was bringing in-home Internet connectivity, computers, training, and other resources to low-income families in federally subsidized housing.
In 2017, Michael returned to Kansas City  to serve as Executive Director of Footprints, Inc. The Missouri Department of Mental Health certifies the organization to provide an inner-city counseling center for people overcoming substance use disorders, a recovery home for women and a short-term residence for homeless veterans.
In January 2020, he assumed the position of Chief Operating Officer of Healing House, Missouri's largest provider of recovery housing. He also worked to establish an accredited intensive outpatient treatment program.
He spent a total of seventeen years from 1990 to 2008 with the AGRM, which is a network of 300 rescue missions and other urban ministries that help the homeless, addicts and alcoholics and the needy. Before going to the AGRM, he spent ten years as executive director of New Creation Center in Atlantic Mine, MI, which he founded in 1979.
His introduction to urban ministry was serving as a live-in counselor in the mid-70s with Midwest Challenge during his seminary years in Minneapolis, MN.
Hear Michael's Testimony on the "Unshackled" radio drama, courtesy of Pacific Garden Mission.
Professional Background
During his seminary years in Minneapolis, Michael worked with Midwest Challenge as a counselor in their addiction rehabilitation program and helped to develop their prison and jail outreach.
In 1979, he founded New Creation Ministries in Hancock, Michigan. During his tenure as Executive Director of New Creation, its programs included an outreach to correctional institutions, a professionally staffed outpatient counseling program, and a licensed Christ-centered residential drug and alcohol treatment center that served primarily indigent men. At New Creation, he developed effective counseling programs, recruited, and supervised a professional staff and obtained state licensing. Michael also implemented a fundraising program that included direct mail, special events, personal solicitation, foundation support and organized capital campaigns for procurement and expansion of the program's facilities.
In his early years as Director of Education for the Association of Gospel Rescue Missions, Michael helped rescue missions to develop more effective recovery programs for addicts and their families.
His major responsibility during his last ten years with AGRM was the development of Rescue College. The program began as a cooperative degree program with Grace University in Omaha, NE. Michael was responsible for overseeing the development of the curriculum and recruiting a faculty of urban ministry professionals with a heart to mentor future leaders. He also developed a course management system for the delivery of the courses via the Internet.
Michael led the process of obtaining accreditation with the Distance Education Accrediting Commission while the school was still with AGRM.  For the first three years after the transition to TechMission, he served as president of the college. He assumed the role of Chief Academic Officer in 2011 when Dr. Andrew Sears become president. While with City Vision, he recruited and supervised adjunct faculty members, oversaw curriculum development, coordinated partnerships with national organizations and worked with web developers to ensure the quality of the online learning experience. Along with leading the efforts to maintain the school's accreditation, he also led the process of obtaining federal student aid.
Michael's efforts while serving with the Association of Gospel Rescue Missions also included:
Coordinating the Alcoholics Victorious network of 12 step recovery support groups
Editing the Short-term Urban Missions Directory (which was later added to TechMission's ChristianVolunteering.org)
Lecturing, writing, and consulting in the areas of addiction recovery for the homeless and various issues related to the effective management of Christian nonprofit organizations.
Michael is a founding board member of Christians in Recovery, an online community for believers in recovery from addictions and other life problems, which is now also part of TechMission.  He was also involved with other development projects for web sites and Internet strategies for nonprofit organizations.
Michael also served on the original online education committee of ACCESS  and designed the Rescue College course, "Introduction to College Study on the Internet" which won the 1998 ACCESS/Christianity Today Online Course of the Year Award.
Published Works
Because he has struggled with addiction himself and grew up in a dysfunctional alcoholic family, he brings a unique perspective to the field of rescue mission counseling. Along with his theological training, Michael has training in the principles of substance abuse treatment. He has spent hundreds of hours in counseling with chemically dependent individuals and their family members.
In 1993, AGRM published a resource entitled A Guide to Effective Rescue Mission Recovery Programs which consists of 12 recordings from his seminars for chaplains, counselors, and program directors and a 250-page manual. While aimed at rescue missions, this resource offers helpful resources and useful principles for developing and enhancing residential recovery programs in any setting. A follow up to this resource entitled First Things First was published in 2000.
Michael also wrote a column for 15 years for RESCUE magazine. Portions of both publications and magazine articles are available online on his blog. Recording of his lectures are used in various City Vision University courses.
Education
Bachelor of Theology, Inter-Lutheran Theological Seminary, Minneapolis, MN (now in Hancock, MI)
Master of Arts in Organizational Administration, Mid-America Nazarene University, Olathe, KS. Focus on nonprofit management.
View Michael's blog on Addiction Recovery and Program Management