About City Vision University
Our Mission is to use online education to transform lives through Jesus, Justice and Technology.
These values are reflected in the following ways:
Jesus. City Vision was initially founded to provide online Christian education to staff at evangelical organizations serving the poor as well as their program participants. While this still remains a core focus, we have since expanded to also provide Christian education to students pursuing nonprofit and counseling careers. See our Statement of Faith
Justice. We promote Justice through radically affordable, practical education focused on addressing the needs of the poor, addicted and underserved.
Technology. City Vision uses Technology in its cost-effective, lean startup, social entrepreneurial approach to online education as well as to diffuse innovation and disseminate best practices for Christians serving the poor.
Since 1998, these values have guided us in providing online education and resources to students in thousands of Rescue Missions, Salvation Army sites, Christian social service organizations and nonprofits.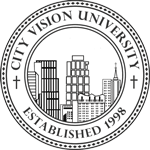 City Vision University is a part of the 501(c)(3) nonprofit organization, TechMission. City Vision University was established in 1998 as Rescue College by the Association of Gospel Rescue Missions to train leaders and workers at their member missions. It was accredited by the Distance Education Accrediting Commission in 2005. In 2008, Rescue College became a program of TechMission and was renamed City Vision.